Family Support / Operation Encompass / Young Carers
Hello everyone, I am Michelle Hellend and I am the Family Support Worker and one of the Deputy Safeguarding Officers at Harvills Hawthorn Primary School.
At Harvills, the emotional welfare of our pupils and their families is of the greatest importance and having a dedicated Family Support Worker enables these issues to be given the time and care needed to be sensitively and compassionately worked through together.
Would you like a friendly chat?
Do you know where to go for advice and support?
Do you know what's going in your area?
We understand that, on occasion, children and families may experience some difficult times and my role as your Family Support Worker is to work closely with you and your children to help make things better.
If you have any concerns or worries, I can offer suggestions and advice for individuals and families on lots of things, including:
• behaviour management
• anger management and control
• school attendance and punctuality
• key school transitions e.g moving to a new school or to high school
• building good routines
• setting safe boundaries at home
• healthy eating
• relationship breakdowns
• financial hardship
• food bank vouchers
• mental health and well-being
• pupil self-esteem and confidence
• changes in family circumstances such as a new baby in the family, parents' separation/ divorce or bereavement
• support for Young Carers
It may be that support is needed for a short while or it could be a longer process and I will listen, without judgement, to your worries or issues.
I want to help you to help your children become the very best they can be and ensure they are prepared for the next stage of their lives to enable them to contribute positively to their community.
I can also refer and signpost to other services available within Sandwell to help you find the best solutions.
If you would like to have a chat or find out more information, please contact me to make an appointment on 0121 557 1034.
Operation Encompass
Harvills Hawthorn Primary School is part of Sandwell's Operation Encompass. This is the early reporting to school when a child has been exposed to domestic violence or domestic abuse. School can then monitor the child and provide support if necessary. If you are a victim of domestic abuse or domestic violence or know someone who is, school can provide a wide range of support. Speak to headteachers for further information. ​
https://www.operationencompass.org/
For more information, click here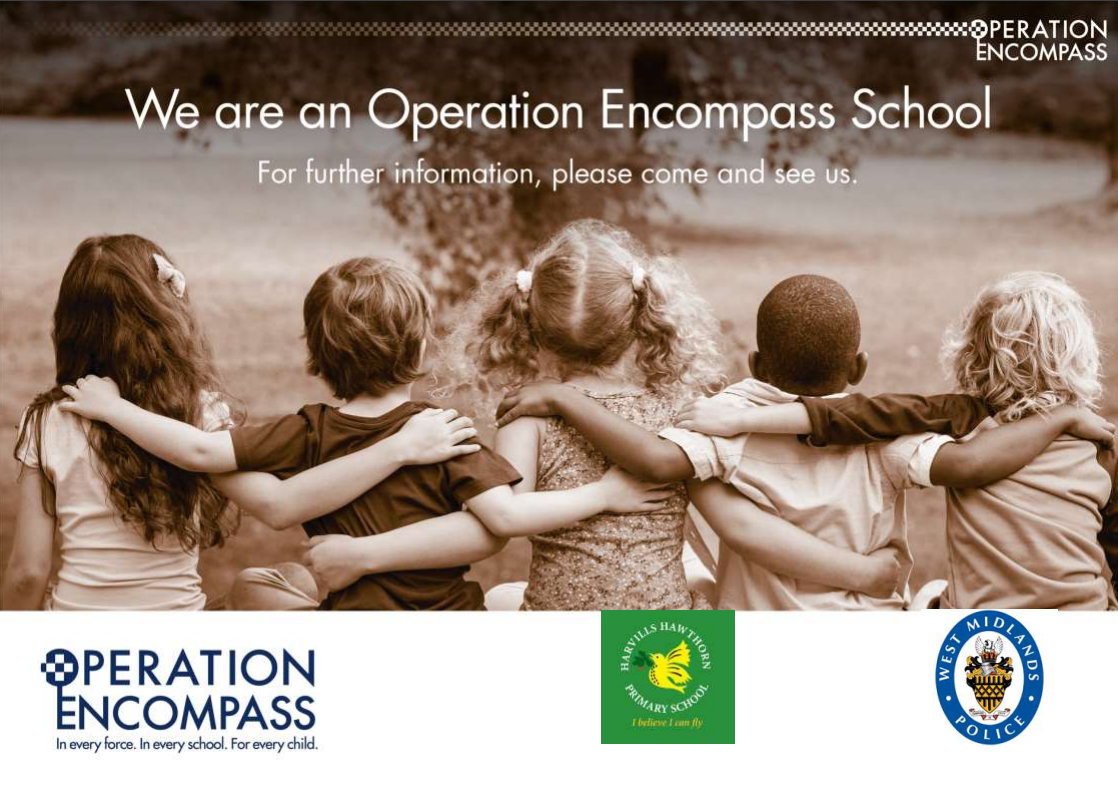 Harvills Hawthorn Primary school is committed to develop provisions for Young Carers and their family.
The whole school is committed to meeting the needs of Young Carers so they can attend and enjoy school in the same way as their peers and achieve their potential.
Michelle Hellend is the designated Young Carers' Lead within the school. Please ring her to access support.
The school will only share information with professionals and agencies on a need to know basis.
The school has an effective referral system and a strong partnership in place with relevant external agencies including the school nurse and Sandwell Young Carers.
Harvills Hawthorn strives to achieve best practice for students and families in our school in order to provide them with the best chance of success in their future.